Reduce IT Costs With Virtualization
Don't let server sprawl and platform dependencies prevent your organization from achieving its goals. Take control of your IT infrastructure with VMware vSphere. Cut capital and operating costs while increasing IT service delivery without being locked into limited choices of operating systems, applications, and hardware. To get a quote for your organization, please contact us.
Reduce hardware and operating costs by as much as 50% and energy costs by as much as 80%, saving more than $3,000 per year for every server workload you virtualize.
Reduce the time it takes to provision new servers by up to 70%
Decrease downtime and improve reliability with business continuity and built-in data disaster recovery
Deliver IT services on-demand now and in the future, independent of hardware, OS, application or infrastructure providers
1/10th the Hardware
Using VMware vSphere, your organization can significantly reduce the amount of IT hardware in the data center. Each instance of VMware ESX can support more than 100 virtual machines. In fact, the vast majority of our customers run as many as 10 or more applications on a single piece of hardware. When totaled with the hardware cost savings and other capital reductions, VMware solutions can help your organization save more than $3,000 annually for every server you virtualize. VMware virtual machines cumulatively have saved over five billion Kilowatt-hours of electrical power. The impact of virtualization on energy consumption is so significant that utility providers in California such as PG&E, SoCal Edison and SDG&E are paying customers for server virtualization projects that result in the removal of server computing equipment. Learn more about VMware's virtualization energy efficiency incentives.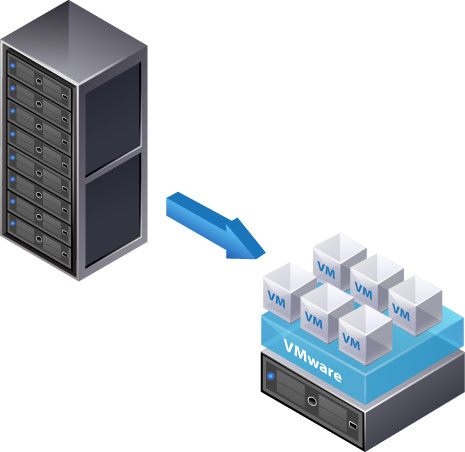 More Control
By consolidating your server hardware with 
VMware vSphere
, the most robust software suite in the industry for server consolidation, your organization can:
Increase utilization of existing hardware from 5-15% up to 80%
Reduce hardware requirements by a 10:1 ratio or better
Have new users up and running rapidly
Spend less on electrical costs
Increase data security governance
Have more control over your end-user environment
Reduce Costs
Fewer servers means less money spent on energy consumption due to reduced power and cooling requirements. Cost savings can be significant—approximately $500-600 per server, per year. Our experienced virtualization implementation team can help you assess your current IT environment to identify consolidation candidates and to calculate the potential savings from using virtualization. To get a quote for your organization, please 
contact us
.
Central Backend
While most vendors offer only single-point solutions for server virtualization, VMware gives you the power to manage an entire virtual infrastructure from a single point of control. Using the production-proven VMware vSphere, your organization can:
Accelerate provisioning time by 50-70%
Manage virtual machines from a central location
Monitor the performance of virtual machines and their hosts